Radial piston pumps and units
Suitable for pressures up to 700 bar and applications with a very high number of load cycles.
The versatile radial piston pumps:
Self-priming, suitable for installation under the oil level or on the tank. The pumps are valve-controlled and therefore independent of the direction of rotation, their delivery volumes are proportional to the speed. As the pumps are mounted on ball bearings, they can also be started against pressure. Thanks to the cast base plate, these pumps run comparatively quietly. They are the ideal way of realizing small flow rates with high pressures. With the 2 different shaft strokes and 7 piston diameters, they can be configured extremely flexibly. We can offer these pumps as pumps attached to gear pumps or internal gear pumps.
Can be combined in many ways:
With special adapter solutions, the RKP can be attached to the Eckerle internal gear pump EIPH2, the Marzocchi gear pumps ALP and GHP, sizes 2 and 3. A combination of several radial piston pumps is also possible.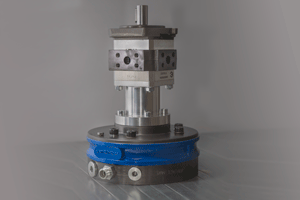 RKP compact units:
Based on our RKP, we build our compact power pack with a stable intermediate plate made of steel for all applications that cannot be achieved with gear pumps compact power packs.